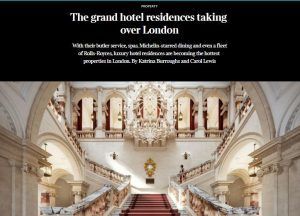 THE TIMES PROPERTY – LUUX MAGAZINE, 5 MARCH 2022

With their butler service, spas, Michelin-starred dining and even a fleet of Rolls-Royces, luxury hotel residences are becoming the hottest properties in London. By Katrina Burroughs and Carol Lewis
Katrina Burroughs and Carol Lewis

The marble staircase at the Old War Office in Whitehall, central London, is a showstopper. Piastraccia steps sweep straight from the lobby opposite Horse Guards Parade up to the grand oak-panelled rooms of the second-storey piano nobile, flanked by super-wide marble banisters and exquisite alabaster uprights.

The design of the staircase is even more special if you are a British history buff. Some of the country's most famous characters have climbed those treads, from TE Lawrence to Winston Churchill, David Lloyd George to Lord Kitchener. The building has been the backdrop to the sexcapades of Profumo and the home away from home of the creator of the Bond series, Ian Fleming, who was once a naval intelligence officer here. Its rooftop even made a guest appearance at the end of Skyfall.

The twist at the end of the edifice's tale of empire and British military power is that, when it opens later this year as the OWO Residences by Raffles, UHNW individuals can walk up those steps into their home, one of London's newest hotel residences. Prices for the 85 apartments, as you might expect, are super-prime. Two-bedroom flats start at £5.8 million and last year a duplex with turret sold for £11,000 per sq ft (costing the international buyer about £40 million), just pipping the £39.5 million splashed out on a five-bedroom penthouse at the nearby Corinthia hotel residences in Whitehall Place.

As the name suggests, a hotel residence is a residential property located next to or within a hotel and shares everything from its high-quality interior finish to its five-star levels of service, including housekeeping, concierge, wellness and fine dining. The hotel has just secured the services of Mauro Colagreco, the chef named Best of the Best by the World's 50 Best Restaurants 2021, to "curate multisensory dining experiences".

Although the trend for hotel residences has been around for a century, beginning in the US and then Asia, it has been slow to arrive in London. "The whole concept started back in the 1920s in New York at the Sherry Netherland on Fifth Avenue, where they sold serviced apartments as part of the hotel," says Chris Graham, managing director at Graham Associates and author of a report on branded residences. "Then, remarkably, little happened for decades and certainly nothing outside the US. In fact, the first international scheme didn't appear until 1988, when 30 branded villas were launched for sale at Amanpuri in Phuket."

In the Nineties and Noughties, leading hotel brands such as Four Seasons and Ritz-Carlton began to roll out hotel residences in urban and resort locations, where these properties sold at a premium over comparable unbranded homes. This included outposts in London, including the first Four Seasons serviced apartment block at 20 Grosvenor Square, General Eisenhower's former military headquarters. When it was launched in 2019, homes were priced from £17.5 million, and included access to a 25m pool, gym, spa, crèche, yoga and Pilates studio, games room, cinema, residents' lounges, wine-tasting room and room service – all without the inconvenience of actual hotel guests.
According to a Savills report released last year, in the past ten years the number of branded residences has increased by 230 per cent globally, adding more than 50,000 apartments across 356 schemes. Until recently, however, there were surprisingly few hotel residences in London. That has changed in the past 12 months, with several launching in 2021 and more planned this year.

The latest to be announced is the UK's first Six Senses at the Whiteley in Bayswater with a hotel (the showpiece of which will be a majestic internal staircase modelled on one at La Scala opera house in Milan) and 14 residences due to open in 2023 (priced from £1.5 million).

"Over the last decade or so, hotel-branded residences have consistently commanded an average global price premium of around 30 per cent, although in mature markets such as London this tends to be lower," Graham says. "If a brand like Four Seasons or Ritz-Carlton puts its flag over the door of its residences, buyers can be confident that these will offer the same high-quality finishes, amenities and services as in their hotels. It's what we call a 'trophy' home, which carries some kudos – the bragging rights associated with saying 'I live at the Mandarin Oriental'."

Occupants of the Residences at Mandarin Oriental in Hanover Square, Mayfair, where properties cost from £2.95 million, have plenty to brag about. The project architects were Rogers Stirk Harbour + Partners, and the interiors were by the sought-after New York designer Thomas Juul-Hansen, which explains why 68 of the 80 apartments, which are scheduled to be ready in this second half of this year, have already been sold, two of which were pandemic impulse buys. The couple who bought them, says Fred Scarlett, the sales and marketing director for the developer Clivedale, weren't looking for an apartment; they had bought one the year before.

"Stranded in London in lockdown 1, they amused themselves by touring the streets and learning a little more about the various areas and districts. They came across the Residences at Mandarin Oriental Mayfair and fell in love with the building." The smitten couple spent more than £6 million combining the two apartments to form the east penthouse.

The popularity of branded residences in London has been boosted, developers say, by trophy hunters who "collect" apartments belonging to their favourite chains around the world. Other buyers are international property enthusiasts who see the investment potential. The hedge fund billionaire Ken Griffin hit the headlines when he added to his burgeoning international property portfolio the £100 million penthouse at the Peninsula hotel and residences next to Hyde Park Corner. The new London hotel is the second Peninsula residences in the world, after Shanghai, and the 25 apartments are understood to be selling fast, despite not being openly marketed and prices being kept secret. Along with the usual high-class amenities and services – all co-ordinated by the former director of residents' services at One Hyde Park – the residents will have use of the hotel's chauffeured fleet of Rolls-Royces when it opens next year.

Ed Lewis, head of London residential development sales at Savills, says that post-pandemic buyers value the agility afforded by a hotel residence, "being able to pack up in New York or the Middle East and come to London. And when they do arrive the property is absolutely ready to roll."

While Mayfair and Whitehall are traditionally more coveted postcodes for international visitors, The Sky Residences at Pan Pacific London in the City are attracting a specific type of British buyer. The collection of 160 private flats (46 of which have been sold, starting at £1.3 million) is set on the 21st to 41st floors of Pan Pacific's 43-floor tower next to Liverpool Street station, with a view over St Paul's Cathedral, Tower Bridge and the Gherkin.

Peter Allen, the marketing and sales director of the developer Stanhope, says that these properties are attracting "boomerang buyers" who sold up in London and moved to the country during the lockdowns, but don't want to spend Tuesdays to Thursdays in a hotel. "The start of Covid did signal an immediate shift in demand for moving out of the City," he says. "However, we are seeing evidence of a reversal of that trend, based on the reality of long commutes and the reoccupation of offices, which has driven demand for a London pied-à-terre."

Pan Pacific is certainly ideal for residents who set a high value on relaxation. Amenities include a wellness floor offering spaces for "fitness, nutrition, spa treatments and mindfulness" and a gym fitted with Technobody equipment. The plaza is overlooked by an infinity pool, where residents can swim while contemplating their property investments. After all, why settle for a hotel suite when a high-flyer can have a private pad with round-the-clock room service in the sky above the City?

theowo.london, mo-residencesmayfair.com, peninsula.com, thewhiteleylondon.com, onebgp.com

https://www.thetimes.co.uk/article/the-grand-hotel-residences-taking-over-london-tj2n8tvm7