Thank you for your interest in our report
Branded Residences: An Overview.
I hope that you find it informative and would welcome your feedback, as it is interesting to receive opinions and experiences from professionals across the industry.
For over 15 years we have worked successfully with leading residential real estate and hospitality clients around the world, for whom we develop bespoke marketing and sales strategies, design collateral, create distinctive branding and manage lead generation. With increasing numbers of projects involving branded residences, we are continually reminded of the opportunities associated with this burgeoning sector, especially when planned and executed effectively.
Please contact me if you would like to discuss a current or future development project. A conversation is a good place to start – and it costs nothing!
Chris Graham
Managing Director
Your pre-registration has been recorded and you will be sent a copy after 30th October.
Branded Residences Report
With 56-pages featuring expert insights, opinions and data from industry leaders across the globe, this 3rd Edition of "Branded Residences: An Overview" is the most comprehensive study of the subject.
Mirroring the expansion of global wealth that has multiplied the number of HNWIs since the millennium, the growth of branded residences has been exponential, not only in terms of quantity but also locations and brands. It has been driven by wide-ranging and proven benefits for developers, brands/operators and purchasers – an unusual "win-win-win" scenario – which are examined in this report.
For most of the last century, branded residences remained a niche segment of the luxury real estate market that was targeted at a privileged audience of HNWIs. These developments were in the best locations and associated with the leading hotel brands, all of which offered a range of 'at home' 5* services and amenities.
Download
Purchase Hard Copy
Branding real estate creates an aspirational model that reflects the prestige and kudos associated with that brand, facilitating stand-out in an increasingly competitive market in which consumer expectations continually rise. As the model progressively become the norm rather than the exception, today's discerning and highly-informed buyer needs to understand how one brand will benefit his or her lifestyle and investment ambitions over another – not least to justify the price premium.
With so many brands from an ever-widening spectrum of sectors now participating, differentiation, relevance and effective marketing are crucial to ensure success.
As a branding and marketing strategist, the report's author Chris Graham has worked with numerous international real estate and resort developments over the past two decades. In 2015, when he found surprisingly little information was available on this burgeoning sector, he was motivated to research and publish the widely acclaimed first edition of this report.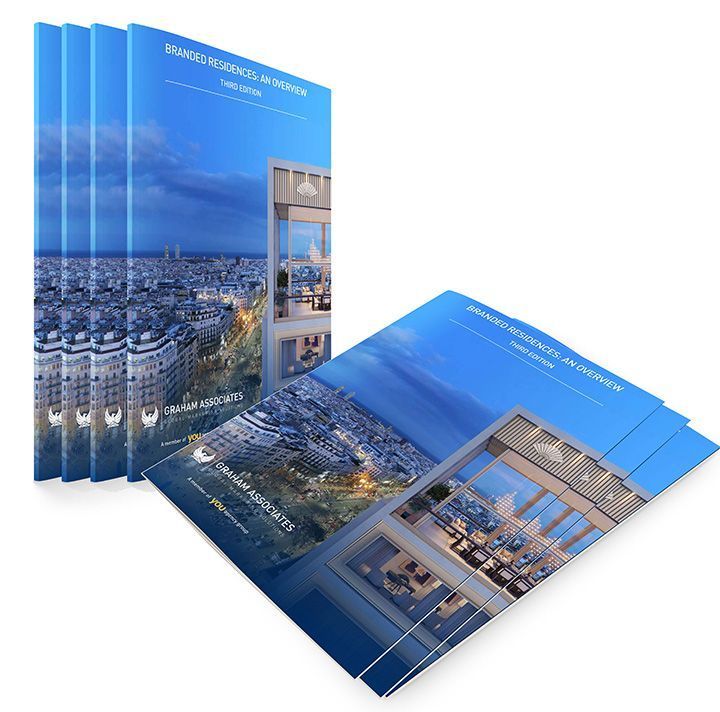 Contents of Report
Jumping on the Brandwagon

License fees

Spotlight on Marriott

Motivations

Buyer Benefits

Designed for Living

Spotlight on Accor

Brand Premium

Choosing the right brand

Spotlight on Hilton

The importance of differentiation

Brand or Bland?
The Evolution of Luxury

Spotlight on Mandarin Oriental

The influence of wellness on design

Urban vs Resort

Spotlight on Hyatt

Rental Programmes

Spotlight on Rosewood

Governance and legal considerations

Spotlight on Conde Nast

Emerging markets

Absorption rates

Future trends?
"In an increasingly congested market, the winning brands will be those that can seamlessly manage the residential experience for both the developer and the downstream homeowner. To stand out from the crowd, brand differentiation tactics and strategies will need to be employed that have strong buyer resonance. We see this as the most vital challenge for the sector going forward. We see opportunities for greater innovation in design and service and welcome Chris Graham's deeper dive into market trends and industry observations on this topic and many others."
Muriel Muirden,
Executive Vice President & Managing Director Strategy, WATG